It was never my desire to become a living
Cathy comic
. So I never mentioned this before. And this is hard for me to bring up so... publicly. I seriously have SO much apprehension about sharing this.
But you know what? I'm just gonna go there.
Hi, my name is Valerie. And I lost 50 pounds.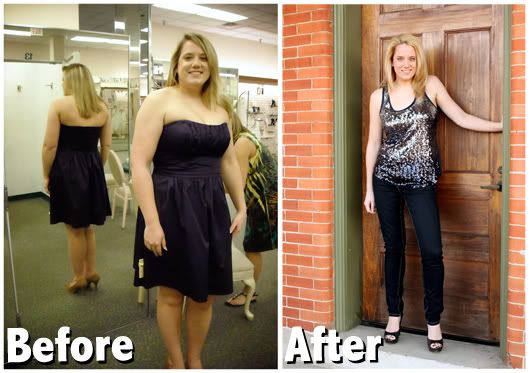 (
grin
)
So... what now?
I suppose that, in the words of Wadsworth, "I'm going to tell you how it was all done. Follow me."
Well. The movie montage of the past year would be a lot of shots of me getting out of bed early, leaving the house makeupless and tennis shoed up and heading downstairs to drive the three minutes to my local gym. It's true, little bloggingtons. Nearly every morning I have started my day off by conquering the elliptical machine, the treadmill, the stationary bike, and/or some free weights. Throw in a mix of jump roping, planking, lunges, and other miscellaneous morning exercises and there you go. You would also be treated to clips of Zumba class, runs/walks through the park accompanied by Wait Wait Don't Tell Me and/or the likes of Kelly, Beyonce, Avril, and Michael Giaccino. Perhaps most importantly you would see shots of me on the computer logging nearly EVERYTHING I'VE EATEN for the past 12 months YES EVEN WHILE I WAS IN NEW YORK CITY.
Sometimes you will hear people say something to the effect of their weight just "falling off." "I stopped drinking soda and the weight just started to fall off!" "I started walking in tiny circles around my arm chair and the weight just fell off!" "I high fived a beluga whale and WONDER OF WONDERS THE WEIGHT JUST MAGICALLY FELL OFF AND NOW I RIDE A UNICORN TO THE OFFICE."
Well, I don't know these people or why they feel the need to lie. Because there isn't, there won't ever be, and there never was anything even remotely CLOSE to the phrase "the weight just fell off me" involved in this. So, lies and dream fantasy phrases like that one, BE GONE! You are not welcome here. Because I got up early, and sweated, and got sore, and turned down ice cream, and drank DIET COKE WITH DIET CHERRY FROM SONIC, LIKE, WHAT IS THAT EVEN!!!!!!!
There is no "falling off." I cannot stress that enough. Even though it's a popular phrase and people even assigned that phrase to ME once or twice (pa-shaw), it's absolutely not true. There is NO "falling off." There is only stretching, and running, and looking silly in Zumba class, and declining the brownies, and setting out your workout clothes the night before, and getting on the elliptical AGAIN, and keeping a nectarine in the fridge at work, and washing out the blender blades and making a breakfast smoothie THE NIGHT BEFORE. There is only gathering up the courage to call the gym for an appointment with a personal trainer and getting up early on Saturday morning to meet "Joel" and talk to him about "goals," and looking like an idiot while he teaches you "burpees" (aka OF THE DEVIL). There is only watching people drink soda and eat burgers and fries while you eat chicken yet again, and looking silly at the gym trying out machines you haven't used before, and pushing yourself in the park to run to the next bridge then the next then the next one more one more one more. There is only telling yourself that a piece of pineapple is a treat, and sweating your FACE off because it's SUMMER HELLOOOO WHY ARE YOU AT THE PARK, and looking up nutritional information for a restaurant before you go and picking out what you're going to eat ahead of time, and coming so far but still feeling like you have SO far to go. And all of the above again and again and again and AGAIN AND AGAIN AND AGAIN. (And again.)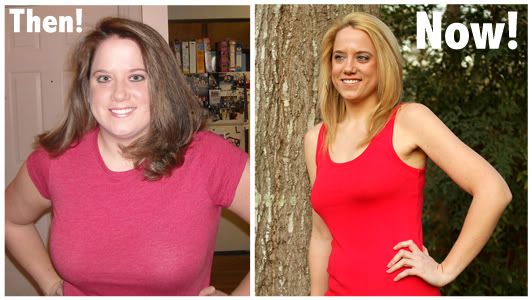 Despite the fact that, yes, I moved the scale downwards by 50 pounds in about a year, the numbers did not, by any means, go consistently down. The graph showing my progress is not a straight line going from the top left corner down to the bottom right. And that's what can be really frustrating about the process: the inconsistency of results. I could intake the same (small) number of calories and put the same time in at the gym this week that I did last week, and while last week I magically lost 3 pounds, this week I could lose just zero. Or add one back. Or have multiple weeks of discipline with NO RESULTS AT ALL SO PLEASE SOMEONE THROW THIS SCALE OUT THE FRAKKIN WINDOW BECAUSE WHAT EXACTLY IS YOUR PROBLEM, SCALE?!? It happens. Sometimes I just had to laugh, like the time the scale hadn't budged for two entire weeks, only to fall a pound the day after I ate McDonald's for lunch. EXPLAIN YOURSELF, SCIENCE! Okay but seriously, just to drive the point home: just because you kill yourself in the gym and eat only, I don't know, barley and tepid glacier water, doesn't mean you're going to make a significant weight difference. I don't know why that happens, but it happens.
I know that before I started this particular "journey," anytime I heard about someone who lost weight, I'd want to know how they did it, always hoping the answer was something other than "exercise and a lower calorie intake." GUESS WHAT: that's always it. Always always always. So the short answer for "How did you do it?" is that simple: I exercised. And I didn't eat a lot of crap.
Of course there's a
little
more to it, and I think that the other thing you'll always hear people talk about is the importance of doing what's right for YOU. Because boot camp and vegan diets aren't for everyone, and they're certainly not for me. So really you just have to figure out what's going to work for you. And what worked for me was an exercise cocktail of aerobic workouts and Zumba and long runs in the park and a few mornings a week of the circuit that Trainer Joel put together for me. And it was a random food mix of eggs, microwave dinners, smoothies, fiber bars, pineapples, salads, and the occasional burger or cup of 85% diet coke, 15% real coke, because oh come ON. But above all, credit goes to calorie counting, because without that... it's just SO hard to know! I could think a salad I ordered off the menu is the healthiest possible lunch I could get, only to check the calories later and PEOPLE THIS IS RIDICULOUS, 900 CALORIES!? IN A SALAD?! THAT'S JUST WRONG. But yes, there will be times when you find yourself pouring over the nutritional information of a WENDY'S so you can go and not be blind-sided by a 700 CALORIE CHICKEN SANDWICH. (Yes, that is a thing that exists.)
So that was it for me:
counting calories
. Not everything works for everyone, obviously, and this just happened to work for me. When I discovered LoseIt.com, I got down to business. Having a daily measurably goal was huge for me, because it took the guesswork out of it, and I had numbers to shoot for every day. Every day! The calorie count is what I would come away with as being the most important piece of this puzzle, outside of the desire to finally just DO it, and also a really fabulous workout outfit, because well. You never know.
There is one other supremely important thing that absolutely must be mentioned here: I would not have lost a single ounce of anything if that had been outside of God's will. And I am not saying that I prayed to sweet baby Jesus if I could pretty please just lose some weight and then poof it happened. Because Lord have mercy, but
that is not a thing
. Instead, my living, caring, ACTIVE God gifted me with strength, determination, and enough of a sense of humor to make it out of Zumba class undiscouraged. He gave me all of the tools I need to complete the monumental task before me. The tenacity, the support, the drive, the fire, and the WHAT IS UP attitude that is sometimes necessary to defeat long and arduous tasks like this one. No one could have prepared me like He did, could have purposefully planned out my story the way He did. I am thankful for His grace, for His mercy, and for creating all of the many wonderful musicians who would one day come together to make up my workout playlist. I mean--He knows what He's doing, y'all.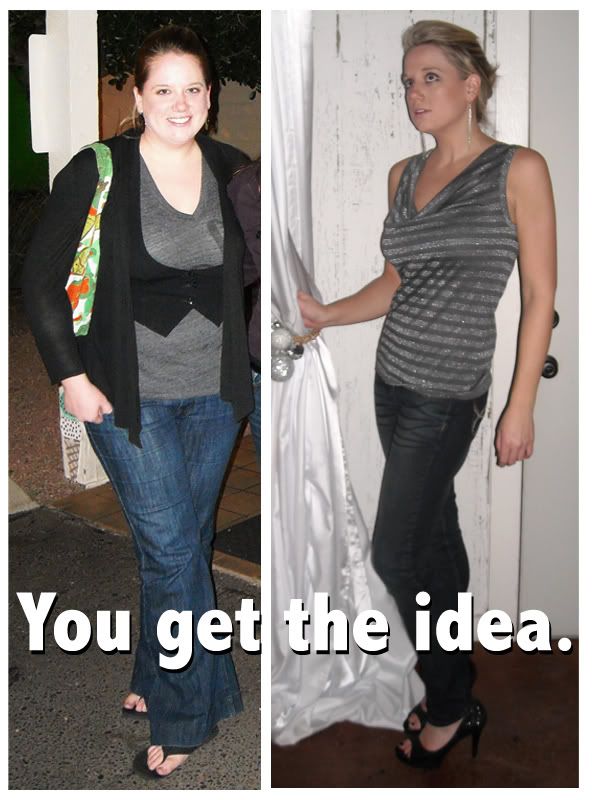 And now, I MUST say: thank you to my mom, my BIGGEST cheerleader, who was treated to nearly every step and milestone along the way, cheering me on no matter how small my accomplishments. Thanks to my dad and sister for always encouraging me and motivating me to continue on with this in a very non-pushy and sweet way. Thanks to cousin Shanni, who promised me a trip to Nordstrom's for a treat if I kept at it (and delivered HUGELY). Thanks to Andrea, who gave up an afternoon to take these "After" pictures for me. Thanks to
Javier
,
Not Mindy Riggins
, and all of the other Zumba instructors who pushed me one hour at a time. Thanks to TVs in the machines at the gym. Thanks to clementine oranges, dark chocolate kisses, egg whites that come in cartons, 100 calorie ice cream sandwiches, and of course, the MVP of the group, skim milk. Bravo, guys. Finally, big props and MASSIVE thanks go to my online "friends" from LoseIt, who did jumping jacks and happy dances with me and for me EVERY step of the way. Their comments and smiley faces always brightened my day, and they made small victories feel like a VERY big deal. And I've never even met them.
NO THANKS go to: french fries (Y'ALL. Do you even realize???), overly perky people in Zumba class that make me think more about punching them IN THE FACE than actually exercising, that one itch on my right shin always that made me have to stand on the sides of the treadmill so I could lean down and scratch that one place real fast and jump back on which happened ALL THE TIME, tortilla chips (not an easy thing to stay away from in Texas, aka I TOTALLY DIDN'T but I HATE YOU ANYWAY), and finally,
especially
the fitness world for making me feel like I can't do ANYTHING right- like saying soda is unhealthy and so I make the change to diet but then they say diet soda is just as bad for you and WHY DOES NOTHING PLEASE YOU!?
It's not easy. And I will never condescend to anyone who decides to do it or thinks maybe they SHOULD do it, because it is HARD AS HELL. I'm sorry, but it is. Worth it? Yes. But hard. I never would have thought that ANYONE would ask for my advice, or how I, of all people, was losing weight, or EXACTLY what I am doing. But people, surprisingly enough, have done exactly that! I never thought that I would be the one that would an example to ANYONE, and yet here I am.
So if you'd like any further details or would like to ask any questions at all, please feel free to do so in the comments, or just email vmorby (at) g mail (dot) com. I would love to share, to advise, to encourage, to bring you to Zumba class, to... anything. Really.
Unfortunately, in the end there IS no movie montage, no "work it, gurrrrl" soundtrack, no fast forward button. There's no triumphant swells of music, no thumping bass. It's often quiet. Lonely. Boring. Slow. Frustrating. Monotonous. Complicated.
But it IS worth it, in the end. It's worth it for the "work it, gurrrrl" feeling. For the "Have you...?" comments. For the compliments suddenly coming from every which way. For the people asking me (ME!) how I did it!
(Pause. Big intake of breath.)
You know, for a really long time, it really is just slow. And quiet. And boring. For a really long time you put the work in with no real results. With no one noticing.
But then one day they
do
notice. And you get to buy new clothes, and feel just a little bit fabulous.
One day you'll bask in the glow of knowing you did it.
One day you'll lose 50 pounds.
And you'll hit "Publish" on your victory blog post, and share it with the world.